This integration allows organizations to distribute LumiQ episodes through catalogs with additional access to launch and track completions within LCvista.
Overview
LCvista has developed a custom integration with LumiQ in order to populate LumiQ podcast episodes in an LCvista program catalog. This allows users to launch into episodes, and to track completions and continuing education credits earned for those episodes in LCvista.
This article will cover the frequency in which episodes can be made available, the session data that will be visible as well as user launch, user mapping and user completion tracking.
For more information on integrating with LumiQ through LCvista, please contact your Account Manager or support@lcvista.com.
Program Catalog
LCvista will load episode data into a LumiQ Learn program catalog on a predefined schedule. Administrators must associate their desired user group(s) to this catalog in order for it to be visible on the Program Catalog.
Program/Session Details
LumiQ episodes will be populated as individual sessions in LCvista. These sessions will include the following details:
Delivery Method: QAS self study

Content Type: URL

Launch URL: A deep link directly to the LumiQ episode

Expiration: None.
Sessions will not have an expiration date in LCvista. When an episode is archived by LumiQ, users will continue to have access to launch and at that time will be navigated to the archived episode in LumiQ.

Fields of Study: NASBA Topic Areas.

Program Qualifications: Fraud, Jurisdiction specific ethics, Valuation.
Episodes that qualify for fraud, jurisdiction specific ethics in select jurisdictions, and valuation will appear in LCvista.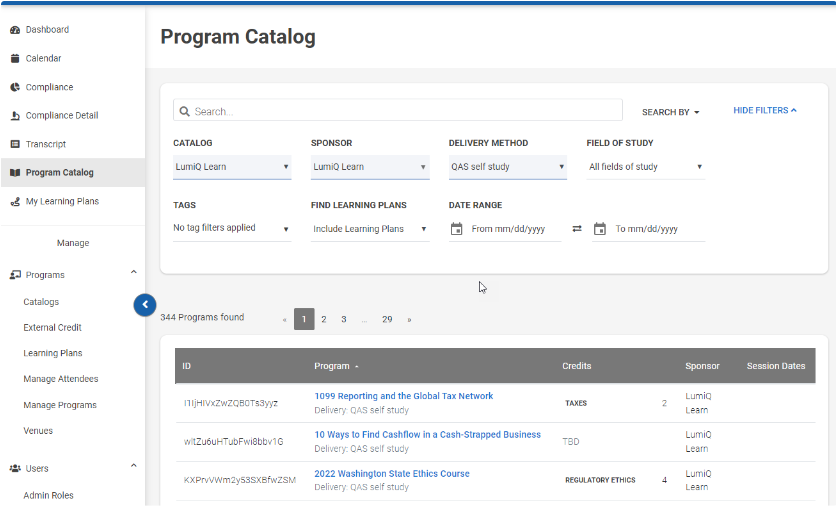 Session Enrollment
You can enroll in a session from the Program Preview page. Selecting Launch on the session in LCvista will navigate you to the LumiQ Web App. You will also have access to launch a session from your phone, at which point you will be navigated to the mobile app to view the episode.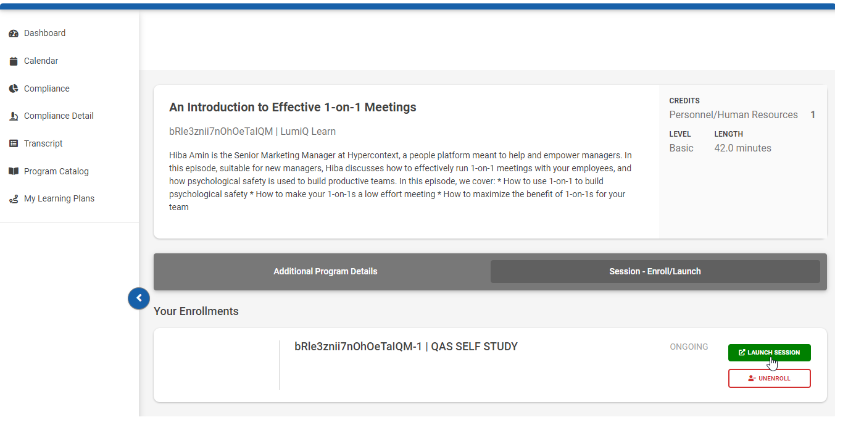 User Mapping
Upon launching a LumiQ session from LCvista, you will need to log into LumiQ directly to access the episode and receive credit for completion. A mapped user account must exist in LumiQ for successful login. Single sign on is not currently supported.
LCvista maps username, email, and slug to accounts in LumiQ in order to associate the user with the organization and to issue completion and credit appropriately.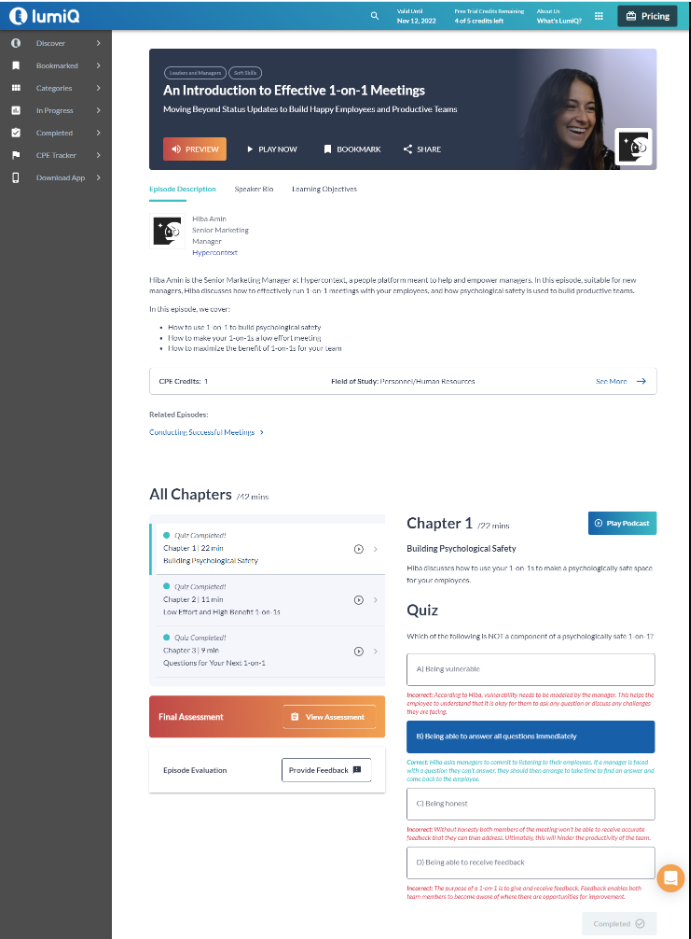 Completions
Sessions are marked complete in LCvista within 24 hours of the user receiving a certificate of completion in LumiQ. Completions are updated daily for any completions that have taken place in the prior 24 hours. Please note that all professionals will appear with a status of Passed with custom credit in the Manage Attendees page.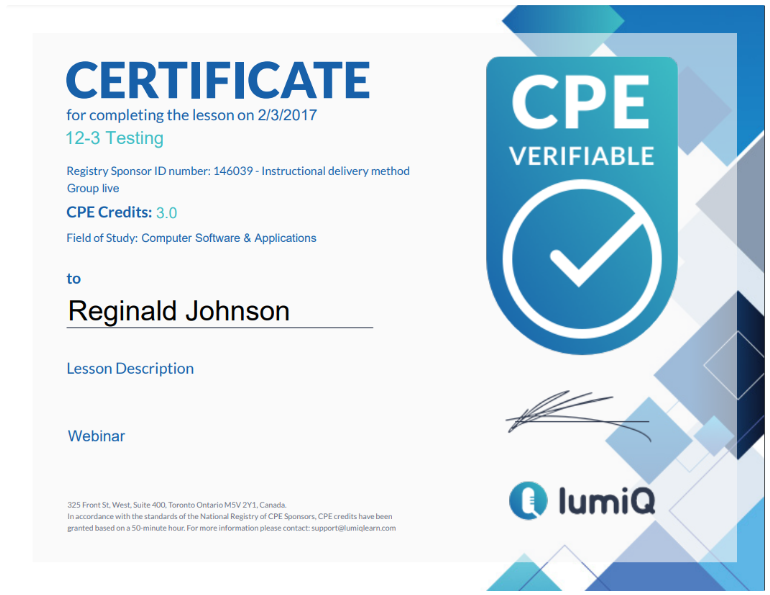 Additional Details
Completions: LumiQ will send an email to professionals with a link advising them to activate their account. All professionals must activate their accounts before they can complete LumiQ content. Please note: If your account is not activated, you will be taken to a trial version of LumiQ and those completions will not be sent to LCvista.

Global App Users: During onboarding, users select if they are or aren't US designated professionals. Users that aren't in the US are on the Global app will not have their completions loaded into LCvista. Please reach out to your LumiQ account representative if you have questions on this.

Revisions: Users in LCvista will always be directed to the most recent episode in LumiQ. Revisions to LumiQ episodes will update episode details in the session in LCvista, but in order to preserve the user's session record and status associated to the episode, LCvista will not create a new program or session when a new/updated episode is released.
Special Custom Accreditation Adjustments. LumiQ will be unable to map credit to a subscriber's custom jurisdictions in cases where automatic mappings have not been defined. In this situation, a subscribing administrator will be required to issue credit to users for these jurisdictions, through Manage Attendees. Credit issued in this way will be distributed as custom credit. Subscribing administrators will not be required to perform this step for custom jurisdictions where default mappings are in place.